Earlier this year the PR performance firm AirPR hosted its annual Growth PR conference in San Francisco. The invite-only event of some 100 PR pros and speakers focused on the convergence of marketing and communications, and how data and digital media are transforming the way companies tell stories and measure success. Here are four takeaways that can help kick your PR and communications' program into the next dimension.
Storytelling is King, not Content
OK, the subhead above is a bit dramatic. Content remains important, but without a concrete story to tell, you have no content. This theme was echoed throughout the event.
Andy Cunningham, founder of Cunningham Collective and a former Apple PR exec, told attendees, "Explain your logic in getting to your story. Make sure that everyone-employees, all executives and customers-knows that they have a role in your brand storytelling."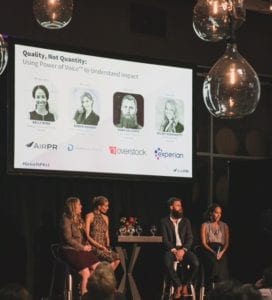 Similarly, Robyn Hannah, Dynamic Signal's senior director of global communications, emphasized that storytelling goes beyond the marketing and communications departments. "Step one," she said, "is ensuring all employees know they have a role in telling your brand story. But the critical next step is empowering and equipping them to tell it."
AirPR president Sean O'Neal said, "Every company is now in the publishing business. Not every company is in the storytelling business, but they need to be. In the same way that there is a world of difference between information and insights, content without a great story is meaningless."
Build Your Technology Stack
As a PR pro, you are only as good as the tools in your tool set. "Every other business function has a tech stack," Hannah said. "Marketing has gone through a complete transformation in the last 15 years," with data and software driving it. "PR needs its own tech stack. If you haven't already built your PR tech stack, you need to start now."
Dan Beltramo, AirPR's CEO, noted, "Having a great PR tech stack is important, but that's just the beginning. To transform a company into a growth PR business, the organization needs to embrace new principles, he said. "It's as much about the people you hire, their mindset, and their ability to be more data-driven. How well you operationalize the tools and systems will be as critical to success as the tools and systems themselves."
Get Current with Data
PR often is under scrutiny about the value it provides to a business. You are doing a disservice to your company if you are not educating the C-Suite about how data and analytics can show the value of PR. More than that, communicators should be using data to gain insights to improve the work they do to further business objectives. Unfortunately, data collection sometimes is an after-thought for PR. In some cases, it's not done. This needs to change.
To Whom Should PR Report?
On nearly every panel a discussion or question arose about where PR should sit on an organizational chart. Many attendees were seeking a consistent answer. They never received it. It was shocking how starkly different teams seem to be organized and how often they had changed. The only consistent theme was there was no consistency. Often, CEOs, executives and marketing leads look to communicators to advise on structure, as if there was some magic way to assemble a team for optimal efficiency. The reality is every organization is different. Companies should choose a structure that works best for their situation.